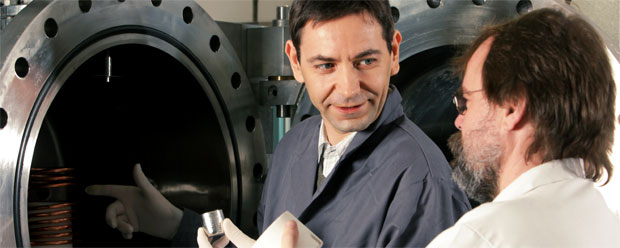 About the Meeting
Oxides constitute the most versatile class of inorganic materials, and single crystals provide superior as well as homogeneous properties. Such crystals are used e.g. as optical, piezoelectric, or laser materials, and as substrates for piezoelectric and oxide electronic applications. As oxide crystals appear in many crystallographic structures and can be formed from nearly every element in the periodic table, the preparation of novel materials as well as the improvement of their structural quality is key for providing materials with improved or even novel characteristics.
This workshop under the auspices of the German Society of Crystal Growth (DGKK)–brings together scientists and scholars from industry, research labs, and universities to present and discuss the recent advances in the field of oxide crystals, dielectric materials, laser and non-linear optical crystals, solid-state lasers, and related topics. After taking place in the ISL in Saint-Louis (France) and the FEE in Idar-Oberstein (Germany), this 5th workshop 2016 is held for the first time in Berlin, Germany, at the Leibniz Institute for Crystal Growth (IKZ). We are looking forward to welcome you in Berlin!
Anyone interested in the workshop topic is cordially invited to participate and to present her or his interesting scientific results.
How to Register for the Workshop:
If you plan to attend, please send an email ncluding your name and affiliation to matthias.bickermann@ikz-berlin.de.
We encourage you to provide an oral contribution (15 mins. plus 5 mins. for discussion) at the workshop. In this case, please indicate a tentative itle and list of authors in the email. We will ask you later to provide a one-page abstract for the abstract book handed out at the workshop.
Registration opens on Thursday at 12 p.m. with coffee and cookies are available in the room adjacent to the IKZ Foyer.
Deadline for attendance and abstract notification:
Please submit your abstract and/or notice about your planned attendance as soon as possible.
Meeting Contact
Prof. Matthias Bickermann
Leibniz Institute for Crystal Growth (IKZ)
Max-Born-Str. 2, 12489 Berlin, Germany
Phone +49-30-6392-3047
Fax +49-30-6392-3003
Email: matthias.bickermann@ikz-berlin.de
Meeting Details
Workshop Language is English
The workshop will start on Thursday, Sep 15, 2016, at 1 p.m., and end on Friday, Sep 16, 2016, around 1 p.m.
We plan for generous breaks between sessions for face-to-face discussions, and an IKZ lab tour after the event.
The dinner event will be held in the restaurant "Krokodil", Gartenstraße 46-48, 12557 Berlin. We will go there with the tramway starting at the IKZ and a 5 mins. walk from the station "Schlossplatz Köpenick". For those taking accommodation in Adlershof, trams are returning every 20 minutes. Most accommodations in Köpenick are within walking distance.
Lunches are not included. Within walking distance, there are many opportunities to take lunch, and all of them take cash. See http://www.adlershof.de/gastronomie-speiseplaene/menues/