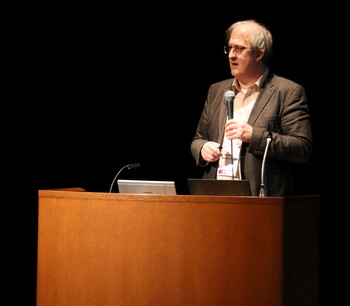 As a university professor, I provide lectures at the Institute for Chemistry of the Technische Universität Berlin The supervision of PhD, Master, and Bachelor theses is generally conducted at the Leibniz-Institut für Kristallzüchtung (IKZ) in Berlin-Adlershof where I work.
Since summer 2012, I give a lecture on 'Fundamentals, methods, and applications of crystal growth' at the TU Berlin, which spans over two semesters. The lecture is a ECTS recognized module in the master study of chemistry and recommended for the directions of 'materials-related chemistry', 'synthesis and catalysis', and 'technical chemistry'. But the lecture is also dedicated and recommended as a 'Wahlfach' for master students in chemistry, technical chemistry, physics, or materials science.
Additionally, I present the science of crystal growth in the series of lectures by different speakers for master students in chemistry and I contribute to interdisciplinary university projects and lectures. More details are found on the subsequent pages.
Voluntary work in University Committees
As a professor: Guest Member of the Council of the Institute of Chemistry at TU Berlin and Attendee to Retreats and Workshops of the Department of Natural Sciences at TU Berlin (since 2011)
As a lecturer (Privatdozent): Member of the "Professorium" of the Department of Materials Science at the University of Erlangen (2008-2011)
As a PhD student: Member and secretary of the Study Commission in Materials Science in the Department at the University of Erlangen (1998-2001)
Voluntary work in Science Administration and Service
At the Leibniz-Institut für Kristallzüchtung, Berlin:

Deputy of the director of the Leibniz-Institut für Kristallzüchtung (seit 2012)
Supervision and coordination of the IT team and activities at IKZ (since 2012)
Supervision of the IKZ technical services (teams installation engineering, workshop, utilities management) (2012-2019)

At the chair of Electrical Engineering Materials, University of Erlangen:

In charge of computer network, hardware management, and central hardware acqusition (2001-2011)
Software licensing (contact person to the university's computer administration) (2003-2011)
Administrating of the chair's server and mail accounts (2001-2011)
Designing the Chair's content for the "40th Anniversary of the Technical Faculty" brochure (2006)